How to Conduct an Idaho Business Entity Search
Wondering how to conduct an Idaho Business Entity Search? Here's a quick guide on how to do just that quickly and for free with the help of BrandSnag!
If you're starting a business enterprise in Idaho, you'll want to guarantee that the company name of your choice is still available. To do this, conduct an Idaho Business Entity Search before registering your firm. This quick and easy step can save you time - and headaches- down the line.
To ensure your business name is unique, Idaho offers a Business Entity Search (also known as an Idaho Corporation Search). With this search, you can explore the database for similar registered names and trademarks within the area. Additionally, it will provide insight if other entities are operating under the same name in other jurisdictions outside of Idaho.
To guarantee that your business is one-of-a-kind and evade any potential legal disputes, entrepreneurs must perform an Idaho Business Entity Search. In this article, you will be guided through the process of conducting such a search and discover what information can be collected during it.
How to Perform an Idaho Business Entity Search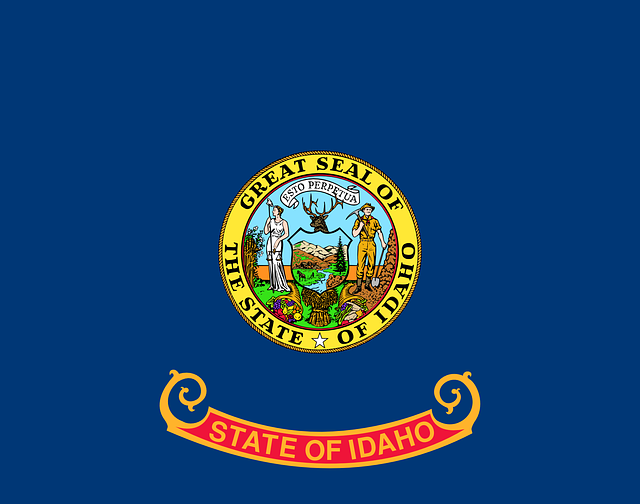 To guarantee that your business concept has the potential for success, you'll want to verify that its name is still available. By following our straightforward guide, you can easily confirm if someone else has already claimed it.
Conducting an Online Idaho Business Entity Search

The Idaho SOS website allows future entrepreneurs to check the availability of their proposed company names with its reliable business search tool. With this helpful feature, you can be sure that your desired name is unclaimed by other businesses.
Use the SOS Idaho Online Business Search Tool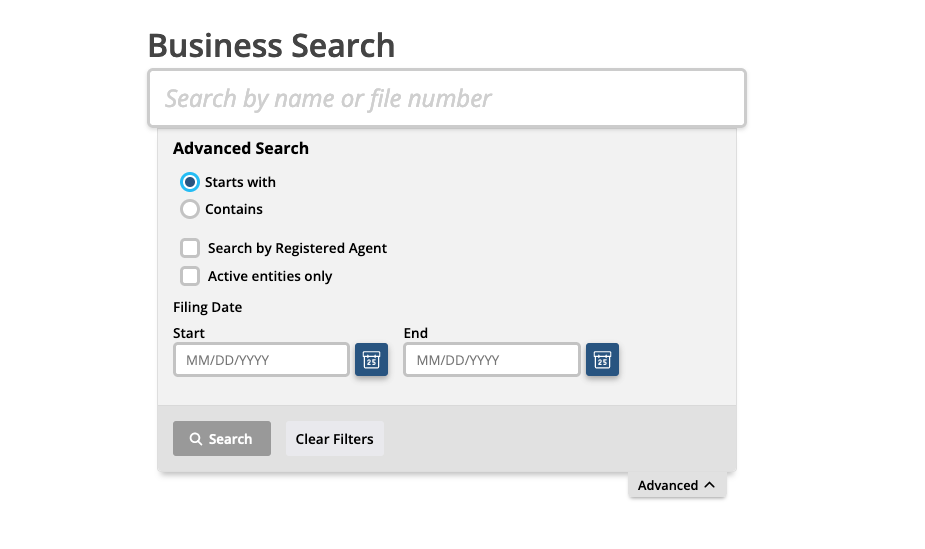 Widen your search results by exploring the advanced options available in our business search tool. Clicking on the "Advanced" button gives you a range of filtering criteria to choose from, allowing you to play around with variations and spellings of what might be an ideal name for your venture. Omit certain words or replace them with alternatives if need be - this way, similar-sounding names will pop up during your business entity search.
Conduct a Business Search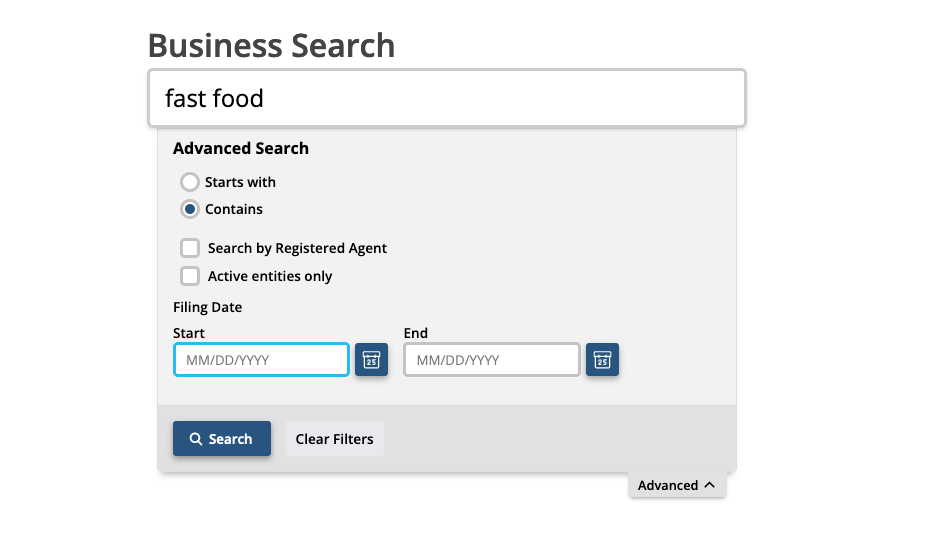 You can search for something with two options - "Contains" or "Starts With." However, the latter will be your best bet if you are looking to find an already-established entity. You should avoid using the former as it won't give highly reliable results.
To begin, tick the box labeled "Contains" and enter your business keyword (i.e., "fast food") in the search field. Using this approach to search for your key phrase, you will gain insight into any competition related to your business concept within Idaho.
Ensure that the "Active entities only" checkbox is left unticked.
Click "Search."
To ensure that the name you've chosen isn't already in use, keep the "Contains" box checked and perform a full search to ensure it is available.
Review the Business Search Results
Review the search results to ensure that no other business uses a similar name. If there are any potential matches, look for similarities in spelling or wording.
If no results are returned, then your chosen name is likely available. However, you should double-check with the Idaho Secretary of State's Office before registering your business and ensure that the name is not used in any other jurisdiction.
Conduct a Trademark Search for Businesses in Idaho
The last step in searching for your business name is to validate it against the Idaho trademark database and the United States Patent and Trademark Office (USPTO) registry. This way, you can ensure that no one else has already taken up your company's unique identifier.
Regardless of whether a name is available for use, it does not by itself guarantee intellectual property ownership.
Even if you can freely use the proposed name in Idaho, there may be trademark issues with the USPTO database that could lead to legal conflicts later on. Thus, checking your suggested business title through the USPTO database query is imperative before registering or using it commercially.
Reserve Your Business Name in Idaho
After a comprehensive search to find the perfect name for your business, you can reserve it in Idaho to secure its exclusive use. The fee to reserve the name is only $40 and is valid for four months until registration.
Please [download and complete the "Application for Reservation of Legal Entity Name" form]( https://sos.idaho.gov/CORP/forms/MISC/name reservation.pdf) to safeguard a preferred business name. Then return it to us using the address provided within the document.
Internet users wanting to reserve a name must first register and create an Idaho SOS website account to access the digital application form. Taking advantage of this convenient service is only $20.00.
Conduct a Social Media Search for Business Names in Idaho
Having a good online presence is paramount for any business in Idaho. You should perform a social media check for the name you have chosen to ensure it is available on various platforms.
If usernames are available, try registering them before someone else does. This will help you protect your brand online and maintain consistency for customers. You can use BrandSnag's free tool to search for available social media handles and domain names.
How to Contact Idaho SOS for a Business Search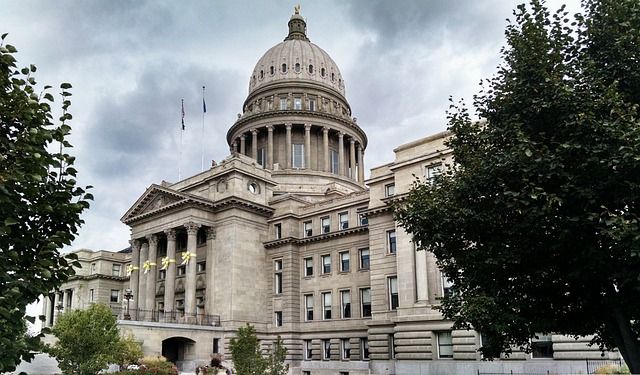 The SOS (Secretary of State) of Idaho is responsible for maintaining the state's business registry. You can request a business search by contacting the office directly or visiting its website.
Address: 450 N. 4th St., Boise, ID 83702
Email: business@sos.idaho.gov
Telephone: (208) 334-2301
Website: https://sosbiz.idaho.gov/search
Idaho Business Entity Search FAQs
What Does It Cost to Conduct a Business Search in Idaho?
If you're looking to conduct a business search in Idaho, you'll be glad to know that it's entirely free! This is great news if you're considering joining the wonderful world of entrepreneurship.
Beyond the free search option, you should note that it will cost between $20.00 and $40.00 to reserve your chosen business name - an essential step for any budding enterprise.
Can You Reserve a Business Name in Idaho?
In Idaho, businesses can reserve a business name for up to four months, offering flexibility to entrepreneurs and business owners. One can submit a name reservation application form online or by mail to reserve a name. The cost for the online application is $20.00, while the application costs $40.00 when it is sent via mail. Filing this form provides peace of mind and safety, allowing the businesses to choose their desired moniker with confidence that it will be legally sound and entered into good standing with the state.
What Are the Different Types of Business Entities in Idaho?
In Idaho, entrepreneurs can select from various business entity options to operate their company. These entities include, among others, corporations, limited liability companies (LLC), limited partnerships (LP), general partnerships (GP), and sole proprietorships. Each entity possesses its benefits and drawbacks that business owners should consider when formulating their plans.
Corporations are favored for their protection against personal liability; LLCs offer a flexible operating agreement to adapt to changing needs; LPs provide a structure for either one or two people under direct control who have an ownership stake; GPs often require a minimum of two partners where each partner has unlimited liabilities; and sole proprietorships are the most straightforward option but do not offer much in the way of asset protection.
Whatever direction business owners in Idaho choose with their enterprise must understand the pros and cons associated with each business entity before making any firm decisions.
Conclusion
Successfully registering a business in Idaho requires you to conduct a comprehensive search. You should check the name of your business against the state's entity search, trademark database, and social media handle before registering it.
The Idaho Secretary of State offers many ways for individuals to request an official business search or reserve their desired name. By taking these steps, you can ensure that your business is properly registered and you are free to conduct business in Idaho.
Related Business Search Articles