New Jersey Secretary of State Business Search
Do you need to conduct a New Jersey Secretary of State Business Search? Come on into BrandSnag and learn how to do it the right way the first time around!
When you need to find vital information about businesses located in New Jersey, you turn to a reliable source - the Business Records Service provided by the New Jersey Treasury Department's Division of Revenue and Enterprise Services. This resource is particularly important for due diligence and KYC purposes, especially when bringing new customers on board. However, the degree of information offered might not meet your expectations. Let's explore why this is and unveil some additional resources that could come in handy.
Understanding the New Jersey Secretary of State Business Search Records Service


The Business Records Service is an integral part of the New Jersey Secretary of State Corporation and Business Entity Search website. Once you land on the site, a simplistic search interface greets you.
New Jersey Business Records Service Features
The service allows you to search using one field, the business name. However, you may find the lack of advanced search options a bit disappointing.
Post-Search Scenario: New Jersey Search Results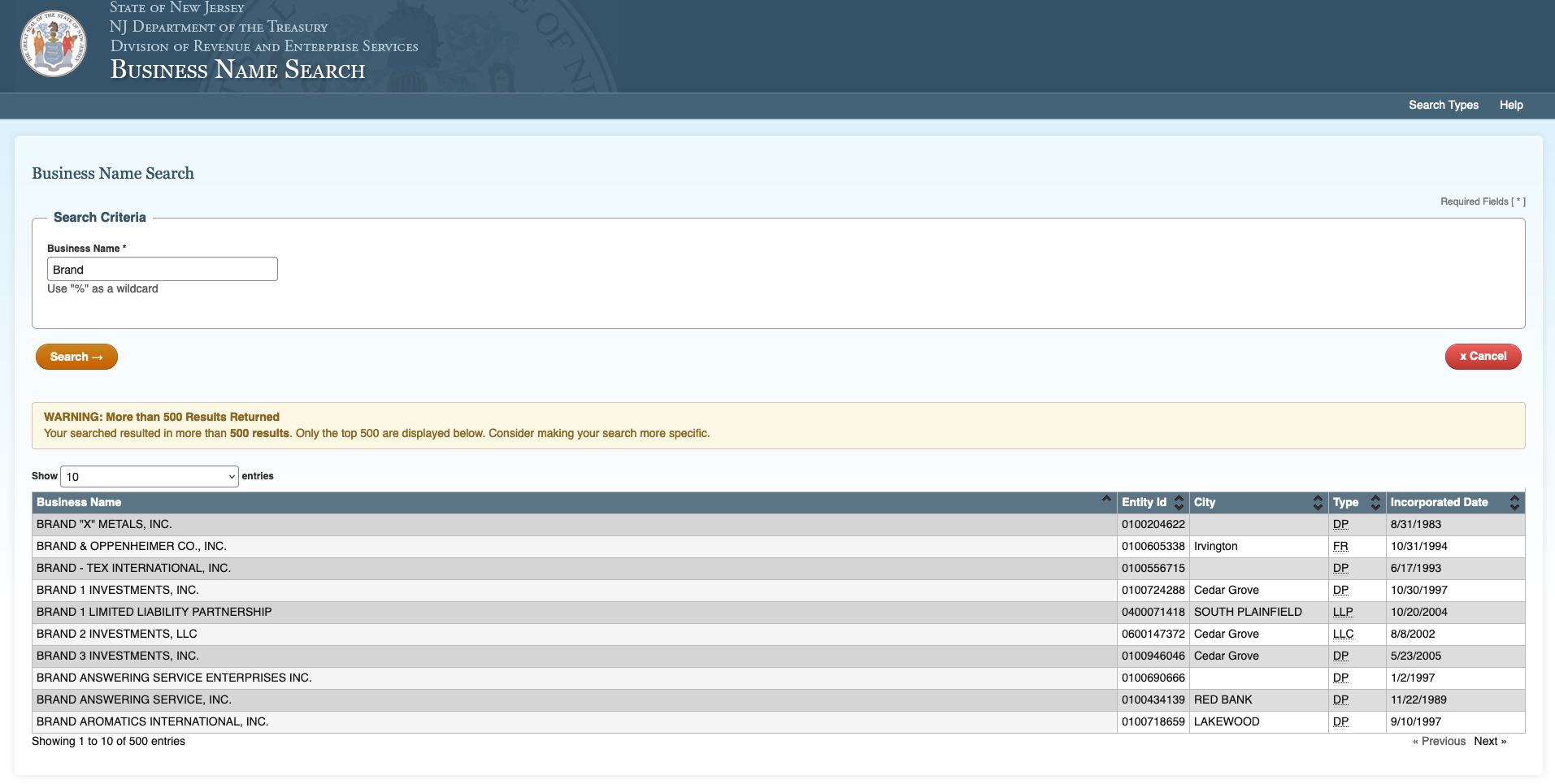 After completing the search, the resulting page offers you the business name and ID, the city in which they're situated, and the original filing date. Interestingly, this page does not distinguish between active and inactive companies. Your only way to manipulate the data is by sorting the columns.
The Detailed View: Does it Exist?
Contrary to the norms, clicking through to a business details page is not an option here. You can select the checkboxes for the information you wish to retrieve and then add the requested documents to your cart for purchase, provided you have a credit card at hand.
The New Jersey Cart: What Does it Include?
The cart contains the Business Status Report, which includes:
Name
Status
Original Formation Date
Annual Report Information
Registered Agent
Associated Name
Filing History
The website also provides a sample business report for users to get acquainted with what a typical report looks like.
The Lack of Free Information
New Jersey distinguishes itself from several other states by not providing detailed business information for free. What's offered without a fee is basic contact information via a commercial nationwide business directory. For a more in-depth search, you would need a paid subscription.
Exploring Alternatives
In scenarios where you're not performing these searches frequently, the New Jersey portal might be enough. But for high-volume searches, you might want to consider more efficient tools. Albeit paid, they can be extremely resourceful and comprehensive, offering an extensive array of data about businesses not just in New Jersey but across various other states.
How to Start a Business in New Jersey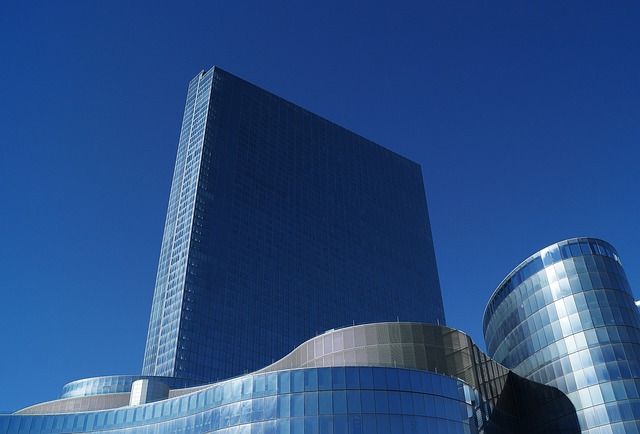 Establishing a business requires diligent planning, strategizing, and compliance with various regulations. If you're in New Jersey, the process is simplified through the accessibility of numerous resources designed to assist you. The following sections provide essential steps to set up a business in New Jersey.
Step 1: Selecting a Name for Your Business
When it comes to naming your business, there are a few critical factors to bear in mind. A compelling business name is one that's catchy and exudes positivity. Consider using alliteration or rhyme to make it memorable. Additionally, a name that communicates the benefits of your business can be a powerful marketing tool. New Jersey has provided Business Name Search tools to make sure your selected name is not already taken. This critical step ensures your business identity is unique and protected.
Step 2: Deciding on the Right Type of Business Entity
Choosing the right business structure is crucial. The most common types include Sole Proprietorship, Partnership, Corporation, and Limited Liability Company (LLC). Each type carries its own set of advantages and disadvantages.
However, LLC has emerged as a popular choice for many entrepreneurs. Its attractiveness lies in the personal liability protection it offers and its taxation structure, which avoids the double taxation applicable to corporations.
Step 3: Registering Your Business Entity with the NJ Division of Revenue
After settling on your business structure, the next stage is to register your business entity. For those who opt for LLC or Corporation, this involves filing formation documents with the New Jersey Division of Revenue. A filing fee of $125 is required.
Step 4: Acquiring an EIN Number
Another important step is obtaining an Employer Identification Number (EIN) from the IRS. This number identifies your business for tax purposes and is an essential part of your business infrastructure. This number can be easily acquired online through the IRS website.
Step 5: Opening a Business Bank Account
Separating your business and personal finances is paramount. This separation simplifies your accounting process and protects your personal assets. Therefore, setting up a business bank account is a prudent step to take.
Step 6: Business License and Permits
Compliance with local laws is another important aspect of starting a business. Reach out to your local municipality to find out if your business requires any licenses or permits to operate. The State's Municipal and County Government search page can be an invaluable resource in this regard.
Step 7: Register with the New Jersey Division of Taxation
In line with state requirements, your business should be registered with the New Jersey Division of Taxation within 60 days of formation. If your business entails the selling of retail goods, obtaining a Sales Tax Certificate of Authority becomes necessary.
Additional Considerations
There are several other resources that can help you in your business journey. Free consulting services are available from local New Jersey business organizations such as New Jersey SBDC Consulting and SCORE. These organizations provide valuable insights and guidance for aspiring entrepreneurs.
In today's connected world, establishing an online presence is nearly as important as setting up a physical storefront. Consider securing a website domain for your business and designing a compelling logo to enhance your brand identity. Furthermore, registering social media accounts in your business's name can be a strategic move to connect with your audience and promote your business.
New Jersey Business Statistics You Should Know About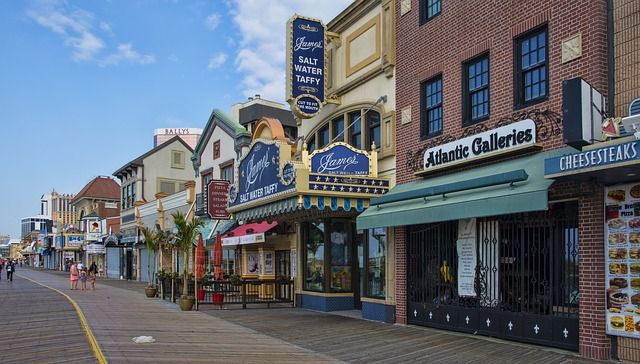 The business landscape of New Jersey is characterized by its diversity and dynamism, particularly in the realm of small businesses. The following analysis delves into essential facts and figures that will enhance our understanding of state's economy. By reading through these enlightening details, one may gain a broad perspective of the opportunities, trends, and challenges in New Jersey's business ecosystem.
Prevalence of Small Businesses
An astounding 99.6% of all businesses in New Jersey are small businesses, equating to an impressive figure of 937,436 enterprises. They are defined by the Small Business Administration (SBA) as entities that are independently owned, have limited influence in their field, and meet specific criteria regarding employee count and annual turnover. According to the SBA, a small business in New Jersey can have up to 1,500 workers and an annual turnover of less than $38.5 million.
Impact on Employment
Small businesses in New Jersey play a critical role in job creation and economic stability. Approximately 49.5% of all employees in the state work for these enterprises, totaling a whopping 1.9 million individuals. Industries, where small businesses make a significant contribution to employment, include professional, scientific, and technical services. At the other end of the spectrum, sectors like mining, quarrying, and oil and gas extraction see the fewest small businesses.
Diversity in Ownership
Business ownership in New Jersey paints a fascinating picture of diversity. Women run 39.6% of small businesses, which equates to around 300,130 enterprises. The contributions of racial minorities and military veterans are also noteworthy. Racial minorities account for 21.7% of business owners, while military veterans represent 4.2% of business owners.
The Economy and Business Climate
The per capita disposable income in New Jersey stands at $68,236, while the per capita consumption expenditure is $52,729. This financial flow aids small businesses in generating revenue and sustaining their operations. However, the business tax climate in New Jersey ranks 50th out of 50 states according to the Tax Foundation's State Business Tax Climate Index Ranking, indicating that tax regulations may pose challenges for some companies.
Export and the Global Market
In 2019, small firms in New Jersey exported goods worth a staggering $13.7 billion, demonstrating their significant contribution to the state's economy. Notably, these enterprises made up 91.6% of all identified exporters. A total of 18,953 small businesses engage in exporting, contributing to 41.4% of the state's total exports worth $31.8 billion.
The Pandemic's Impact
The COVID-19 pandemic has affected economies worldwide, and small businesses in New Jersey are no exception. Approximately 53% of employees work in industries with a high or medium-high degree of economic exposure to the pandemic, presenting a significant impact on the state's economic landscape.
Legal and Tax Considerations
In New Jersey, every LLC must designate a registered agent, present during regular business hours at a physical address within the state. Corporations and LLCs must register and file their Articles of Organization at the New Jersey Department of Treasury, with a filing fee of $125. The individual income tax rate for LLCs ranges from 1.4% to 8.97%, depending on income tiers. However, it is essential to note that New Jersey has the highest property tax rate in the country, at 2.49%.
The Final Word
New Jersey's Secretary of State Business Search provides a platform for individuals to seek crucial business information. While its offerings might seem somewhat limited, its main strength lies in delivering the essentials - albeit at a cost. However, for those who require more detailed and frequent insights, additional tools exist that may better serve their needs.
Related Business Search Articles