How to Change Your Username on Threads
Is it time for a new Threads username? Refresh your Threads identity with a new username. Our guide offers a seamless route to change in just a few taps!
In a world increasingly focused on social media connectivity, the arrival of Instagram's new app, Threads, has certainly raised eyebrows. As you begin to familiarize yourself with this fresh interface, a question might crop up - can you customize your Threads username? The answer is yes, but the process might not be as straightforward as you'd anticipate.
Understanding The Link Between Instagram and Threads
First and foremost, it's important to comprehend that Threads and Instagram are closely intertwined. This connection is due to Threads' reliance on your Instagram credentials for login purposes. Therefore, any change in your Instagram username will be reflected on Threads.
Changing Your Username on Instagram
To alter your Threads username, you'll have to begin by modifying your Instagram handle. Here are the necessary steps:
Launch the Instagram app and select your profile icon, which will lead you to the 'Edit Profile' option.
Once in the editing mode, locate the 'Username' field. This is where you can key in your new preferred handle. After entering the new username, tap 'Done'.
The screenshot below will give you a visual aid to the described process.

Your Threads app will automatically register this change, and the new username will replace the old one. You can verify this by accessing your Threads profile.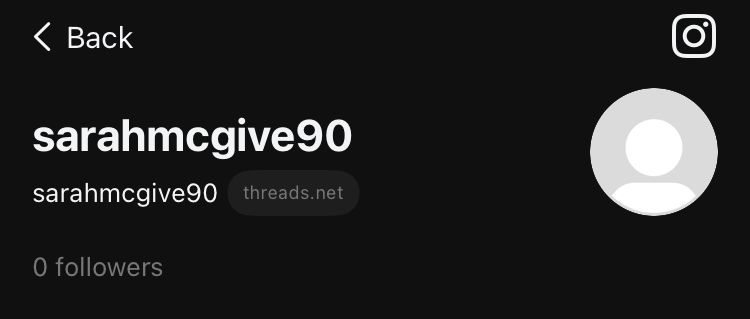 The Threads App: Profile Customization Options
While it's true that you can't directly change your Threads username via the app, there are other modifications you can implement. For instance, you can edit your Threads bio or add links to your profile. Additionally, you can switch your Threads profile between public and private.
To make these changes, follow these steps:
On the Threads app, tap your profile icon to reach the 'Edit Profile' section.
Here, you're free to tweak your bio or add links to your profile.

Frequently Asked Questions About Threads
What is Threads?
Threads is the newest social media platform, brought to you by Meta Platforms. Dubbed as "Instagram's text-based conversation app," it's closely linked to Instagram and can only be used on iOS or Android devices. The fascinating fact? Threads set a new record by becoming the fastest-growing social media platform ever!
Is it True That Threads Got Five Million Sign-ups in the First Hour?
Absolutely! Threads took the internet by storm, amassing an astonishing five million sign-ups in its inaugural hour. This phenomenal growth hasn't slowed, with over 100 million people registering for Threads since its launch.
What Happened to Ad Spend on Twitter After Threads Was Launched?
There's been a noticeable drop in ad spending on Twitter in the US, specifically a 59% decline. The decrease started following Elon Musk's takeover and was exacerbated after the launch of Threads.
Who's Using Threads?
Threads isn't just for the everyday user; big businesses have joined the platform, too. Nine out of the top ten retailers in the United States, such as Walmart and Kroger, have activated their accounts on Threads, according to the National Retail Federation. Additionally, a multitude of celebrities, including Oprah, Jennifer Lopez, Kim Kardashian, Shakira, and Sarah Jessica Parker, have also become part of the Threads community.
Can Advertisements Be Purchased on Threads?
Currently, there isn't an option to buy ad space on Threads. However, it's anticipated that this will change, and advertising will be introduced in the not-too-distant future.
Is Threads Available in the European Union?
At present, Threads is not accessible to users in the European Union. This decision is based on data privacy concerns under the EU's Digital Markets Act.
What Kind of Data Does Threads Collect?
Threads gathers a broad range of data about its users, including health and fitness information, financial information, location, browsing history, and more.
How Do I Sign Up for Threads?
Joining Threads is relatively simple. An Instagram account is required to get started. Once you've signed up, your username and some of your profile details are shared between the two platforms.
What Are The Posting Limitations on Threads?
There are specific guidelines for posting content on Threads. Posts must not exceed 500 characters, and videos should be no more than five minutes long.
Can I Delete My Threads Account?
Yes, you can deactivate your Threads profile at any time. However, to permanently erase an account, the associated Instagram account must also be deleted.
What Impact Has Threads Had on Twitter Traffic?
Twitter has felt the impact of Thread's launch. In the first two days, Twitter traffic fell by 5% compared to the same period a week prior and was 11% less compared to the same period a year earlier.
The Bottom Line
In conclusion, altering your Threads username might seem like an indirect process, but once you understand the connection between Instagram and Threads, the procedure becomes clear. With the detailed steps and screenshots provided above, we hope you'll find it easy to change your username and personalize your presence on this new social media platform. Remember, though the options might appear limited, Threads allows other customization options, such as editing your bio and adding links to your profile.