The Top 10 Best Business Name Generators
Naming your Business is one of the most important and difficult first steps for a new business owner. So, here are 10 of the Best Business Name Generators to help you!
When you're trying to establish your business, there's a lot to consider. You need to do your research, determine your brand and focus. The company needs to stand out in a sea of competition, whether online or offline, and that starts with your company's name.
Recent surveys suggest business owners start because they want to be their boss, are dissatisfied with the corporate USA, or pursue a passion. Your name needs to reflect that drive and dedication in everything you do. Only 19% of all small businesses have opened for a year or less, with most business owners being open for a decade or more.
How does a new business get a leg up in such tough competition?
It starts with a powerful business name that draws in the audience. It holds their attention and lends credibility. For some businesses, accessing online resources can aid prospective business owners. Business name generators help with brainstorming, developing influential names that make a lasting impression. To get started, here are ten business name generators to help.
#1: BrandSnag's Business Name Generator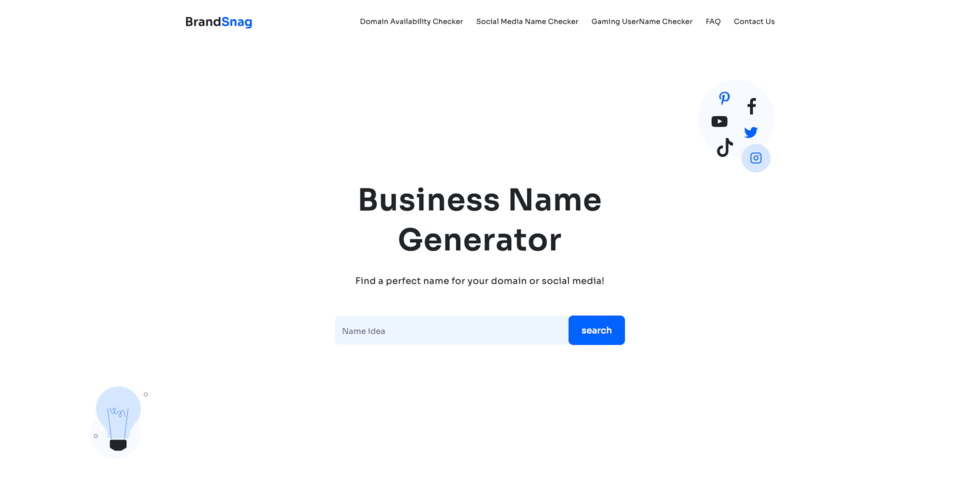 BrandSnag hits all the right notes for businesses choosing the perfect business name. BrandSnag's Business Name Generator is entirely free to use, which is perfect when start-up funds are already stretched thin. Not only is BrandSnag ideal for all business types, but they also offer comprehensive information about starting a business, too – including step-by-step instructions for choosing a name, renaming a company, or getting the proper social media channels. It maintains a user-friendly interface, making it accessible for all skill levels.
Who is BrandSnag's Business Name Generator For?
Anyone who uses a free name generator will enjoy BrandSnag's comprehensive platform. It's ideal for all business types (brick-and-mortar or eCommerce platforms). It maintains a comprehensive approach to generating business names without the fluff.
Pros of BrandSnag's Business Name Generator
BrandSnag sets the tone for your business when it comes to online visibility. BrandSnag offers a wide range of business naming tools. You'll be able to perform unlimited domain searches, complete with availability checks. Users can also access BrandSnag's social media check – which helps determine the best approach to online presence overall. BrandSnag is quick, easy-to-use, and allows unlimited searches. Even better, it is completely free.
Cons of BrandSnag's Business Name Generator
There are no downsides to using BrandSnag's business name generator.
#2: Alter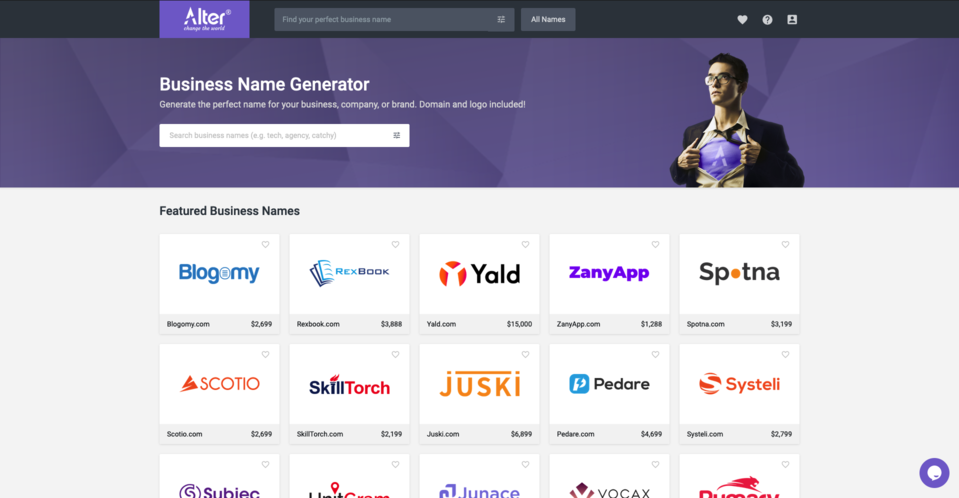 Alter may be the ideal platform for your new (or revamped business). The company offers domain search, complete with a spiffy new logo. The website includes any domains currently available for purchase as a full purchase package.
Who is Alter For?
Alter brings accessible domains for those predominately online (mainly eCommerce platforms looking to start from scratch). The company focuses on a specific niche, targeting premium domains for business owners.
Pros of Alter
This platform is ideal for business owners looking to find a premium domain name without negotiating. Alter combines basic logo design with high-demand domains. All items on their website are available for purchase, ideal for those with the capital to get started.
Cons of Alter
Alter charges business owners based on the domain name instead of acting as a business name generator. The costs associated with the service vary significantly, especially when looking at popular names or in-demand domains. The purchasing costs can often be prohibitive to small businesses or those without extensive capital to spend on a business name and logo.
#3: BrandRoot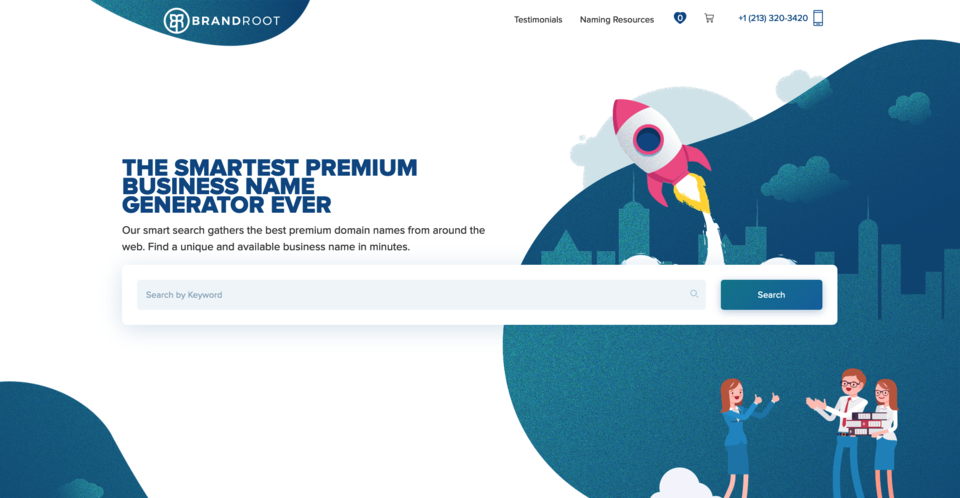 BrandRoot offers a competitive edge to generating business names. It works by securing premium business names and bringing customers a branding package with their purchases. Business owners can search on the platform according to keywords, matching up with similar business names that fit the keywords. From there, users can purchase the branding package, complete with the domain name and logo.
Who is BrandRoot For?
Anyone looking for a branding package with their purchase will find BrandRoot to be a comprehensive platform. The website functions better for those within the eCommerce or online realm, particularly in the tech niche. As the website domains are all premium purchases, BrandRoot targets businesses wanting a competitive advantage with the capital to pay for such service.
Pros of BrandRoot
For businesses hoping to establish their business name, domain, and logo in one location, BrandRoot has you covered. The website highlights available domains and the pre-established logo and branding that goes with the domain. All purchases depend on popularity, basing the price on popularity and keywords.
Cons of BrandRoot
The website can be significantly prohibitive to those companies first starting or with limited capital available. The platform fails to operate as a traditional business name generator instead of focusing on pre-established business name packages. Users will still have to source social media availability.
#4: Hipster Business Name Hipster Business Name offers random business name generation for anyone just starting. Unlike other platforms that provide basic search functionality, this website is automated and random. The website does allow domain and logo purchase but can be unpredictable with results.
Who is Hipster For?
Due to the random nature of the website, this website doesn't focus on one industry in particular. It's ideal for anyone starting from scratch, generating random names instead of industry-focused options. The platform works well for both online and offline industries due to the vague nature of the name generation.
Pros of Hipster
The website is straightforward to use with minimal features. Users can refresh the page for a new name, switch logo components by clicking the mouse, or purchase the combination.
Cons of Hipster
Hipster offers basic name generation that isn't exclusive to one industry in particular. It's a standard automated website that offers limited functionality. There is no search functionality, nor does it generate business names according to the keyword.
#5: Brinso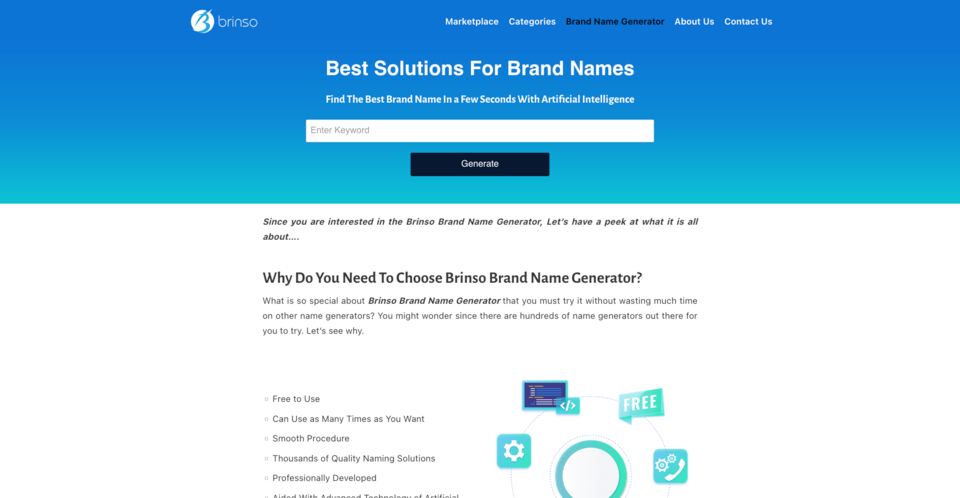 Brinso is an online name generator that divides options according to industry. Users can enter keywords and the projected industry into their search function, receiving a free "comprehensive breakdown" of the brand name. The website checks domain availability but ultimately recommends some of the network's premium domains instead. From there, users can purchase a premium domain, along with the predetermined branding package.
Who is Brinso For?
This website is ideal for online and offline users who want to understand their brand better. Brinso offers a wide variety of industries to choose from when generating business names, with over 35 categories.
Pros of Brinso
The platform a free branding report from the company with every name search. This report includes vital areas to branding considerations and psychological insights of your customers. The brand also offers complete branding packages for business owners, including domain and logo packages.
Cons of Brinso
Unfortunately, the platform isn't straightforward to use. Business owners wanting to purchase complete packages may find the cost prohibitive overall. Users need to determine their predominant industry before starting their search, ultimately limiting the branding report.
#6: Biz Name Wiz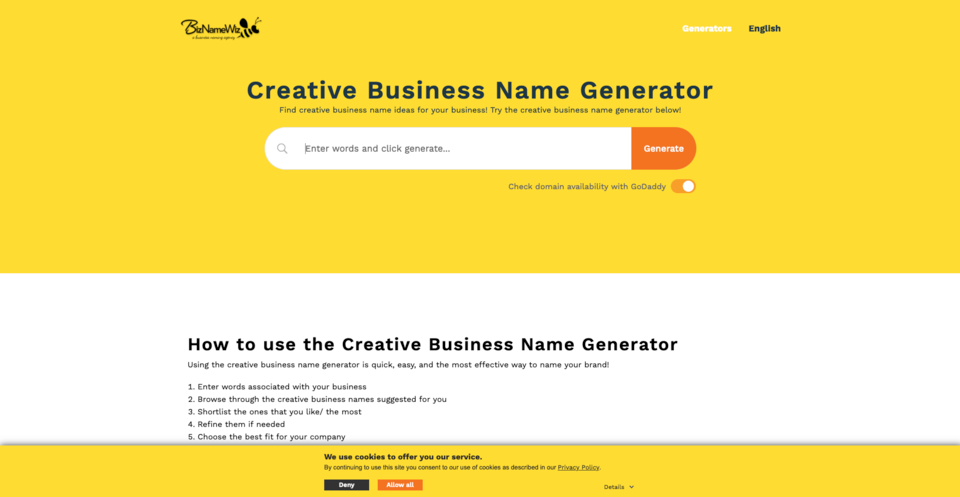 Biz Name Wiz is an online name generator that works through GoDaddy to offer current availability. Business owners enter projected keywords into the search function and find all available domains connected (along with their suffix).
Who is Biz Names Wiz For?
With the current search functionality, users can look up any industry. These include online and offline businesses, whether eCommerce or brick-and-mortar. The website checks domain availability through GoDaddy, offering real-time results for business owners. All results have several keyword options for domain names.
Pros of Biz Names Wiz
The name generation website is simple to use, with minimal features. The results appear organized, streamlining the purchasing process for business owners. As a name generator, the platform is a fast option with multiple options.
Cons of Biz Names Wiz
It appears this website is affiliated with GoDaddy, showing results connected to their services. The results are often generic, with random keywords instead of personalized options.
#7: Fantasy Name Generator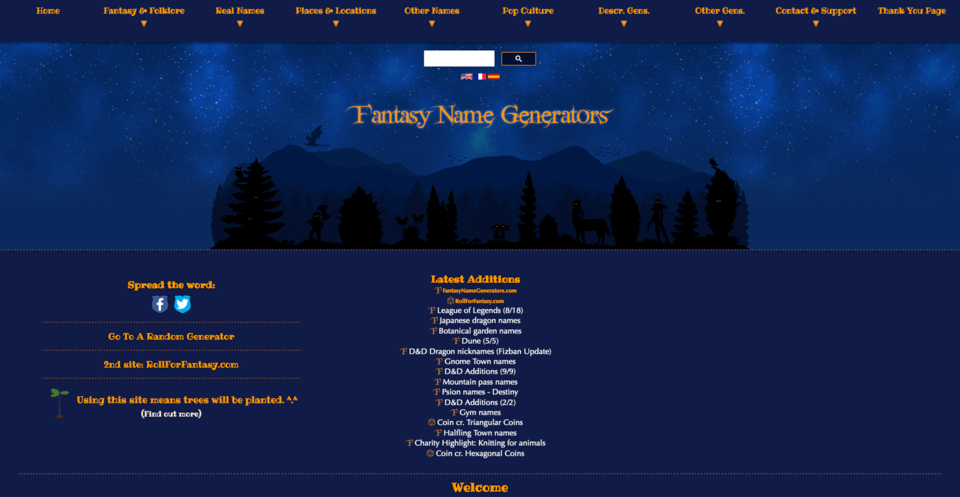 Fantasy Name Generator combines fantasy with business as an online name generator with a twist. This website offers whimsical and original names for those needing an original name that stands out. Traditional companies may struggle using the platform, as the site doesn't provide familiar industry names.
Who is Fantasy Name Generator For?
This website is ideal for anyone wanting an original name that stands out. The tool offers non-cliché options for online businesses or niche brick-and-mortar stores. Business owners in specialty industries are likely to enjoy the name generation functionality.
Pros of Fantasy Name Generator
The website is relatively easy-to-use with automated options. Users can quickly refresh the list with the click of a button, while the names are all original and whimsical. While this website doesn't allow users to purchase domains, it does offer free use to all visitors, producing unique names for brainstorming purposes.
Cons of Fantasy Name Generator
Unfortunately, this platform is quite limited to fantasy-themed business names. Many businesses will struggle to find an appropriate name for their industry, particularly if they're hoping to capitalize on keywords.
#8 – FreshBooks Business Name Generator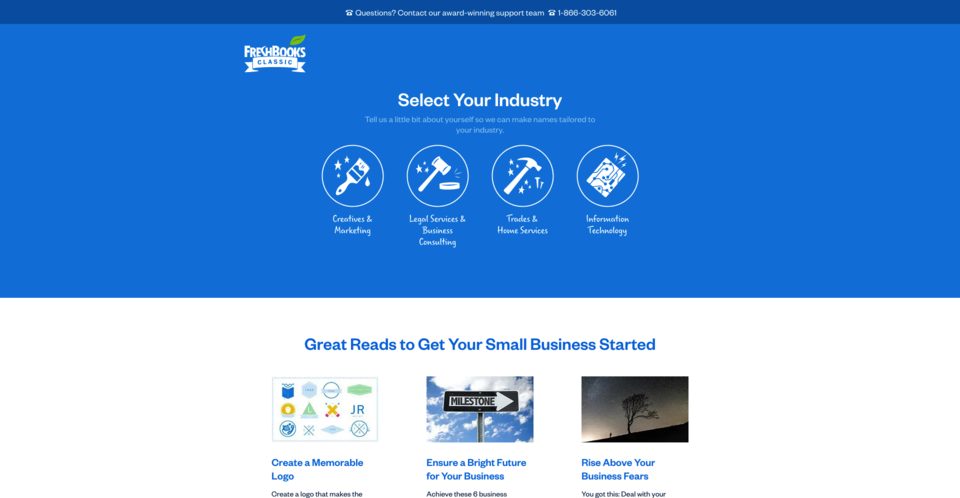 Freshbooks offers a complimentary business name generator that functions in three simple steps. Users choose between four different industries and enter a keyword they'd like to incorporate. From there, Freshbooks automatically generates three unique business names for your company. If you're not happy with the options, there's an option for new names too.
Who is FreshBooks For?
As this name generator caters to specific industries, it's ideal for the service sector. Information technology, trades & home services, creatives & marketing, or legal services & business consulting will likely find the website helpful. These industries apply to in-person and online businesses as a versatile option for those needing a new business name.
Pros of FreshBooks
The website is very user-friendly, bringing results with a few clicks. It's completely free to use the service, making it an affordable option for those with limited capital. The business names always include the specified keyword, focusing on valuable keywords important to your customers.
Cons of FreshBooks
Freshbooks offers three names simultaneously, limiting new businesses wanting to brainstorm. With such a limited focus area, many industries may struggle to use the generator for their company.
#9 – Business Name Generator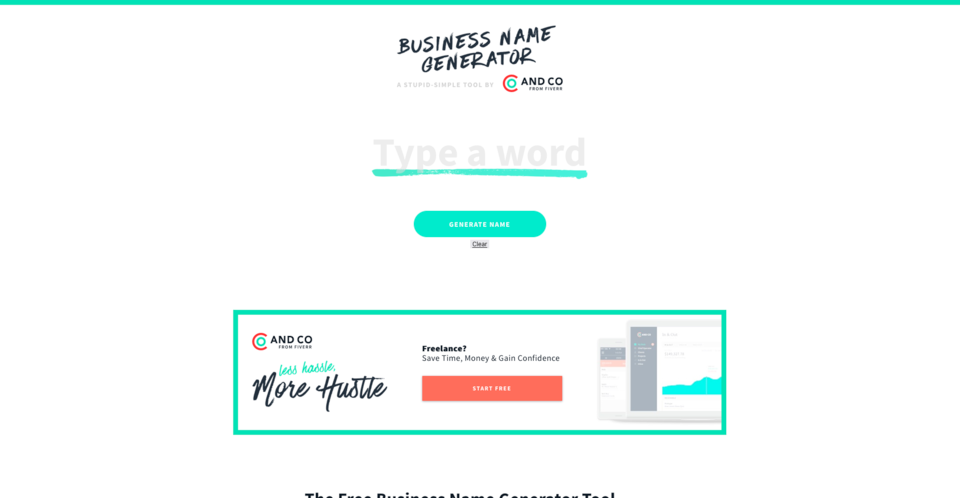 Business Name Generator is an easy-to-use website that combines a user's main keyword and an additional phrase or ending to offer an original business name. The website uses an automated listing result, with all keywords pairing with identical business names. This platform works for virtually any industry, whether online or offline.
Who is Business Name Generator For?
Business Name Generator is easy to navigate and a free option for start-up businesses to brainstorm cost-effectively. The website works well for virtually any industry, although not all generated business names will be effective as business names.
Pros of Business Name Generator
This platform is a streamlined, cost-effective solution for those needing a business name. Business Name Generator is easy-to-use and incredibly user-friendly.
Cons of Business Name Generator
With an automated list, many business names may not be applicable for all industries. Likewise, the endings seem somewhat generic and sequenced instead of connected with actual business industries.
#10 – Get Socio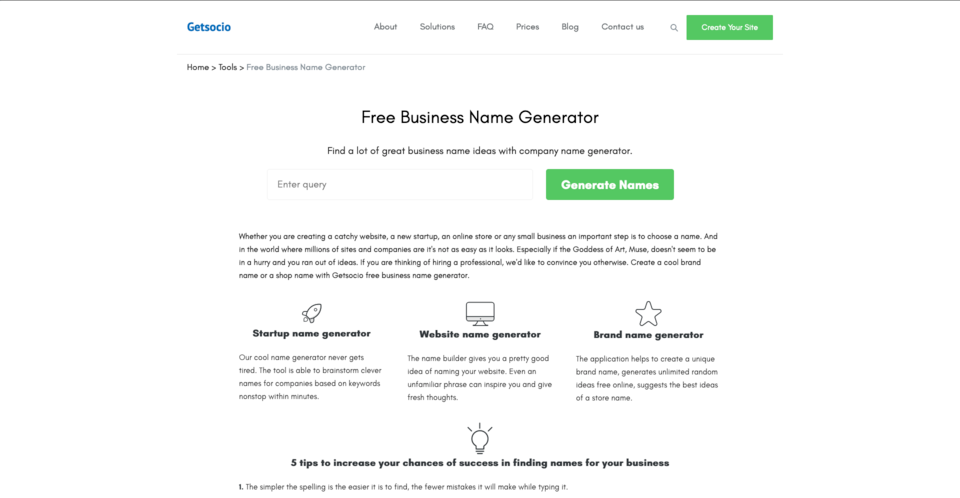 Get Socio connects individuals to original business names, using keywords and original combinations. This business name generator is ideal for virtually every industry, including eCommerce and offline functionality. Individuals can purchase domain names directly through the site as a one-stop-shop for business owners looking to get ahead.
Who is Get Socio For?
Get Socio is ideal for many different industries, although some suggestions don't always work well. Business owners looking for multiple options without paying exorbitant fees will enjoy the website, whether an online or offline company.
Pros of Get Socio
Get Socio is a simple platform that brings results quickly. The search functionality is completely free, with over a hundred different business names presented simultaneously. All business names include the chosen keyword.
Cons of Get Socio
Although the website offers various name options, many names don't make sense for the keyword. Most options are quite generalized, making them impersonal and obsolete. Individuals purchasing a plan through the website become locked into a monthly fee.